Then there's the matter of a few hundred dollars in the bank. Then there's the matter of a few hundred dollars in a box. If you own a Krups waffle maker, you know how vital it is to maintain your treasured gadget in good working order.
A clean waffle maker guarantees that your waffles are dependably tasty and helps your trusted kitchen buddy last longer. Yet, how can you clean your Krups waffle maker without ruining the nonstick surface?
Don't worry, fellow waffle enthusiasts! In this blog article, we'll walk you through the procedure step by step so you may enjoy delicious waffles with no problems. So, let's roll up our sleeves and get started with waffle machine maintenance!
How to Clean Krups Waffle Maker?
Step 1: Disconnect and let it cool.
Disconnect your Krups waffle maker from the power source.
Allow the appliance to cool fully before touching it to prevent burns and injury.
Step 2: Clean the outside.
Warm, soapy water should be applied to a soft cloth or sponge.
Wipe clean the waffle maker's exterior surfaces gently, ensuring no water gets into the electrical components or crevices.
Abrasive cleaners or scouring pads that might scrape or harm the surface should be avoided.
With a clean, soft towel, thoroughly dry the outside.
Step 3: Wash the waffle irons.
Examine the waffle maker plates for batter residue or food particles.
Clean the nonstick surfaces carefully with a soft brush, sponge, or cloth, avoiding metal tools that might harm the coating.
If any tough food particles remain, gently dislodge them with a rubber spatula or a soft nylon brush.
Wipe away any leftover residue with a moist cloth, then dry completely with a clean, soft cloth.
Step 4: Empty the drip tray (if applicable)
Remove the waffle maker's drip pan if it has one.
Cleanse the drip tray with warm, soapy water with a sponge or soft cloth.
Before reassembling the tray, thoroughly rinse and dry it.
Step 5: Put the waffle machine back together.
When reassembling your Krups waffle maker, ensure all components are thoroughly dry.
Close the waffle maker and reattach the drip tray (if applicable).
Step 6: Put the waffle maker away.
Keep your clean Krups waffle maker in a cool, dry location until you're ready to use it again.
Keep the cable coiled neatly and avoid putting heavy things on top of the appliance to prevent it from harm.
You can maintain your Krups waffle maker clean and ready for your next great batch of waffles by following these step-by-step instructions. Frequent cleaning and maintenance can assist in guaranteeing that your waffle maker stays in good working order for many years.
Safety Precautions:
Before cleaning your Krups waffle maker, putting safety first is critical. Following these easy tips, you can ensure a safe and effective cleaning procedure.
A. Unplugging the waffle maker before cleaning:
First and foremost, always disconnect your waffle maker from the electrical outlet before you begin cleaning. This crucial step will protect you from electric shock and prevent the device from being accidentally turned on.
B. Leaving the appliance to cool:
After disconnecting your Krups waffle maker, let it cool fully. Touching a heated waffle maker may lead to burns and other hazards. A cold appliance is safer and simpler to clean since unexpected temperature swings will not damage the nonstick surfaces.
C. Handling the waffle maker with caution to prevent injury:
Keep sharp edges and hot surfaces in mind while cleaning your waffle maker. Hold the device by the handle at all times, and use extreme caution while cleaning the plates to prevent accidentally contacting the heated components.
How Do You Take the Plates Off the Krups Waffle Maker?
Take note of the release buttons at the side of the waffle maker. There's a release button beside the upper grid, and there's another one beside the lower grid. When you press the upper button, the upper plate will be released, and when you press the lower button, the lower plate will be removed.
Final Word
Finally, cleaning and maintaining your Krups waffle maker is critical for consistently excellent waffles and a long-lasting device. Following the easy actions and advice given in this tutorial will not only safeguard your investment.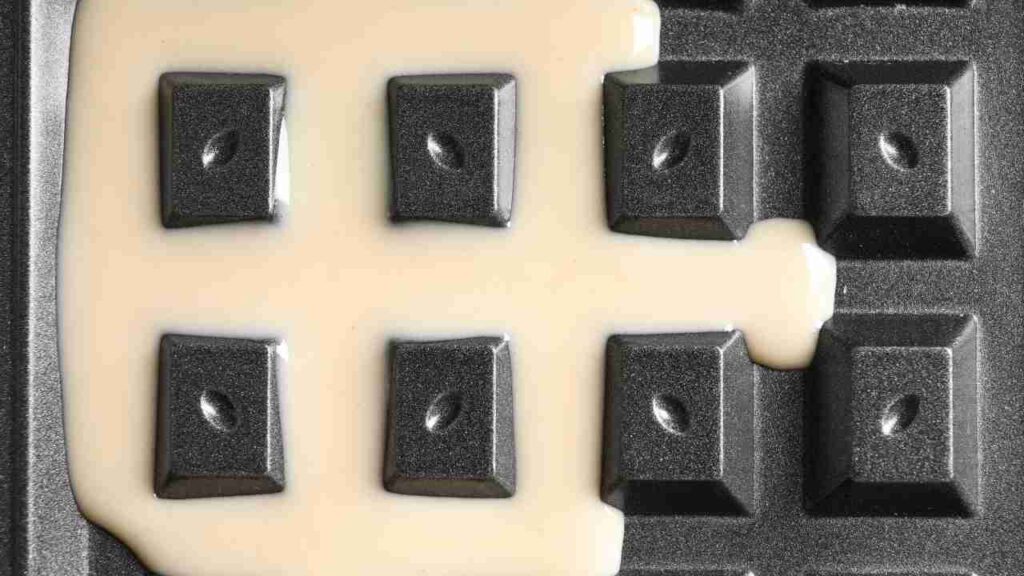 Still, it guarantees that your waffle maker becomes a treasured part of your culinary arsenal. So, the next time you whip up a batch of those mouth-watering waffles, you can experience the pleasure of knowing you're using a clean, well-cared-for device. Happy waffle-making, everyone! Here's to many more delicious breakfasts and memories created with your Krups waffle maker.
Latest posts by Christina R. Johnson
(see all)