The Nostalgia mini waffle maker can make only one big waffle at a time, but it is very effective. The device is known for making golden brown, crispy waffles at an encouraging speed. Its 5-inch cooking surface can get up to 400 degrees F in temperature. This is the kind of heat that can produce dark brown, crunchy waffles.
It is very portable, so it won't take up much space in your kitchen. By virtue of how compact it is, you can easily take it around when traveling. Thankfully, mini waffle makers are allowed on board by virtually all airlines. Its opening handle is cool to touch even when the device is hot. This introduction won't be complete without mentioning that the user manual of this product comes with a 
How to Use a Nostalgia Mini Waffle Maker?
Step 1:
Before you use the device for the very first time, you need to wipe down its exterior and interior surfaces with a soft piece of cloth. Then, place it on a flat, heat-resistant surface. 
Step 2:
Plug it into a 120v outlet and turn the outlet on. An indicator light will come on. This marks the beginning of the heating process. You might want to prepare your batter while the device is heating up. 
Step 3:
When the indicator light goes off, it marks the readiness to cook your waffles. That's when to fill the plates with the prepared batter. However, you need to spray the upper and lower plate with a sparing amount of vegetable oil or a non-stick cooking spray before filling it with the batter. Lift the lid with its handle to open the waffle maker. No worries, the handle won't burn you as it is resistant to heat. Make sure to pour the batter at the epicenter of the lower plate without allowing it to overflow. 
Step 4:
The cooking time will vary according to the recipes. After the stipulated cooking time in your chosen waffle recipe, you should check the waffle. And if it's not crispy or brown enough for you, let it cook for a minute longer. 
Step 5:
When it's done, you can gently remove it and serve it.
Things to Note While Using the Device
It is possible for the device to give off some smoke and/or a slight odor when using it the very first time. Don't fret. The smoke and odor should be gone by the time the device finishes preheating. Spraying the plates with either non-stick spray or vegetable oil will not only prevent waffles from sticking to the plate but also extends the lifespan of the product.
So, you must apply vegetable oil or non-stick spray before making waffles every time. Metal utensils may scratch the cooking plates, so it is better to use wooden or silicone utensils to remove waffles from the device.
Using white flour instead of whole grain flour in your batter makes the waffle healthier. To warm frozen waffles, you need to allow them to thaw before warming them. It is better to reheat your waffles in an oven instead of a microwave at 200 degrees F. 
You need to make your batter thick or lumpy so that your waffles will be thicker. Runnier waffles come out thinner. They may not fill you.
How to Clean a Nostalgia Mini Waffle Maker?
Cleaning your waffle maker is part of using it. For any appliance long, you must know the best way to clean it. According to the manufacturer of this product, here's how to clean it. The first step is to disconnect it from the outlet completely and allow it to cool down. After that, you can wipe its exterior with a wet, soapy piece of cloth. 
Do the same for the upper and lower cooking plates. Rinse off the soap in the cloth and every part of the device again. Now, wipe it with a dry cloth.
Note: The device is NOT dishwasher safe, so you should never immerse it in water. 
How Long Do You Cook Waffles on The Nostalgia Waffle Maker?
Generally, it takes about 3-5 minutes to cook waffles in the device. However, there are several waffle recipes. Depending on the ingredients, the cooking time may vary. Also, the level of crispiness and brownness varies among individuals. Each recipe will stipulate how long the waffles will cook, but if after the time elapses, you're still not satisfied with the waffle, you can allow it to cook for a minute or two longer.
How Much Batter Do I Put in a Nostalgia Mini Waffle Maker?
At most, you should fill the lower cooking plate of the device with about ¾ cup of batter or just enough quantity for the lower plate. That means if you have a large quantity of batter, pour in ¾ cup for every waffle. You'll have to cook the waffles in batches. And if you end up with excess waffles, you can toss the remainder into your freezer.
Final Word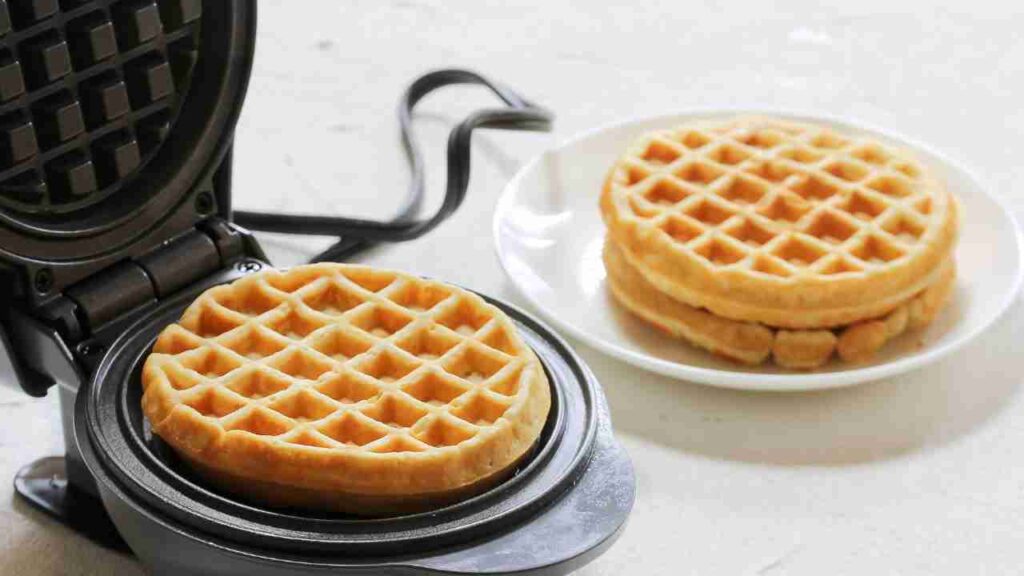 The Nostalgia mini waffle maker is a portable device that makes a single waffle at a time. The device is popular for cooking crispy and golden-brown waffles. After plugging the device into an outlet, its power indicator light will come on, and it will begin to preheat immediately. And when it is fully preheated, the indicator light will go off, marking its readiness to cook your waffles. 
Latest posts by Christina R. Johnson
(see all)